ALPACA LINKS
The following is a list useful links that I have compiled. If you wish to be added to this list, please send me an e-mail.
ALPACA FIBER PROCESSING COMPANY
A great place for finding finished products and also for processing of your fiber.
Alpaca Onwers and Breeders Association. This is the first place to get your farm and ranch guide of the members and additional information.
This is the registry for the Alpaca industry and I am a proud member.
This is a great site and easy to use. They are dedicated to rural America for exposure of your products.
The officaial website for the North Carolina Alpaca Breeders. This is your one stop shop for local Alpaca Farms and their information.
Member of the Mid Atlantic Alpaca Association.
The official site of Virginia Alpaca Owners and Breeders. If you live in a connecting state you can also become a member.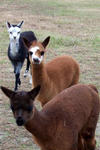 The South East United States Alpaca Owners and Breeders organization.
A great site and co-op for your fiber and finished products. Check out the site.
Become a member of the Alpaca Fiber Co-Op of North America. This is a venue to get our fleece in the textile market in our country.
The site for the small farms. We are interested the well being of our Alpacas and helping new breeders.