ALPACA HATS
BLACK ALPACA HAT $ 75.00
Hand made black wet felted hat. American alpaca fiber with a little silk added for contrast. Crotching around the brim with varigated pale pink and blue yarn. This hat is for a size 23 head. Made in the USA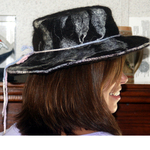 Alpaca Watch Cap $ 30.00
American made classic knit cap made with natural alpaca fiber from North Carolina.
The lining is made of Innova polypropylene thus making the cap very warm and light weight. This cap is assured to be a winter classic.
This hat has all natural colors making the snow flakes stand out.
One size fits all.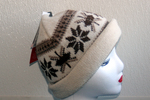 GRAY VARIGATED ALPACA HAT $ 60.00
Gray with natural varigation handmade wet felted hat made of American alpaca fiber. There is blanket stitching around the edge done with black alpaca yarn. The black yarn was spun from my alpaca fiber. Made in the USA. Size: 21 inch head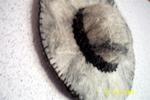 Alpaca Hat with Brim $ 30.00
This American made alpaca hat is designed after the hat Radar O'Reilly wore on the TV program M.A.S.H. It has a new rib knit styling making the hat softer inside and out. The brim helps keep your face warm in the cold winter months. Made of 100% Natural alpaca fiber from North Carolina.
One size fits all.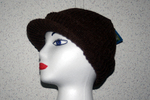 Striped Beanie $ 25.00
This beanie is American made with all natural alpaca colors. No dyes are used. 100% Natural alpaca fiber from North Carolina.
The lining is Innova polypropylene which is moisture wicking, quick drying, and non fading. Great hat for outdoor activities without over heating.
One size fits all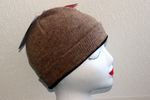 Handknit & Felted Hat $ 55.00
Hand knit 100% North Carolina Alpaca hat. The hat is made of natural fiber of natural color. The hat itself is alpaca yarn with dyed other fiber for adornment. The adornment is crocheted.
Adult size hat for Women
Hand wash or use hand wash cycle on machine. Air Dry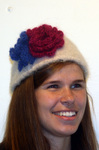 Handknit Black Hat $ 30.00
Ladies hand knit hat made with 85% North Carolina natural alpaca fiber and 15% Merino. Natural colored yarn used to knit the hat. Very light weight and soft.
Ladies size hat
Machine wash on handwash cycle or hand wash. Dry flat