Gloves, Mittens and Headbands
This page has the alpaca gloves and mittens that are available from my farm store for purchase.
Children's Gloves $ 10.00
Hand knit alpaca gloves. They are for the children in your life. The children will treasure these decorative gloves that were hand knit with care. They have been knit from American alpaca fiber in Peru by women with years of experience.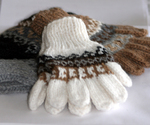 Bright Black Headband $ 24.00
This is a hand knit black headband. American made by myself from the true black alpaca fiber of Ghost Dancer's Cheyenne. She resides at the farm in North Carolina. The shine of this natural colored natural fiber is fabulous.
The headband measures 3 inches wide and fits all. Great for cold weather out doors. Use for skiing and/or snowboarding. This is a great choice when a hat is not what you want.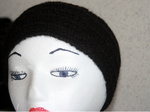 Uni Sex Gloves
Uni-sex American made Alpaca gloves. These gloves are made with natural alpaca fiber grown in North Carolina. They are warm and light weight.
Hand wash and dry flat. If you have a "HAND WASH" cycle on your machine you may wash them in the washer. OUT OF STOCK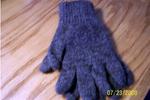 Gray and Black Headband $ 24.00
This is a very warm and soft headband. Hand knit from the fiber of a true black and a silver gray alpaca in North Carolina. This was knit with 2 strands of worsted yarn. This headband will be great with any outdoor activity. The colors make it a great accent to any color outfit. You are buying an American made natural fiber in natural colors.

Warm Colored Mittens $ 25.00
New cozy mittens. American made mittens from 100% prime alpaca fiber from North Carolina. These mittens are soft and extremely warm!! You will be very pleased with the purchase of mittens made of a natural fiber. The warm fawn color accents any outfit beautifully.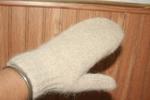 NEW Fingerless Gloves Made of NC Alpaca $ 22.00

NEW American made Fingerless gloves . Knit with fiber from 3 Hawk Alpaca in North Carolina.
As touch screen cell phone use is on the rise across the country, it's important for people to have the option of alpaca warmth while staying connected! These fingerless gloves are mid-weight and have the same construction as the Uni-Sex gloves.
Made of 90% U.S. Alpaca and 10% Nylon
Hand wash and dry flat.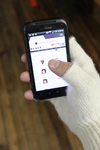 Warm Brown Headband $ 24.00
American hand knit headband made of 100% Alpaca fiber grown in North Carolina. The band is wide enough to cover your ears for when snowboarding and/or skiing. Great addition to any outfit. Will look great during outdoor sports as well as when just wanting a headband instead of a hat.
Measures: 3 inches wide and one size fits all
This headband was knit from fiber of 3 Hawk Karris on the farm.