Alpaca Fiber
All of the yarns for sale are American made from American raised alpacas. Unless stated all yarns are 100% alpaca. The yarns are in natural shades from the different colors of my alpacas. Yarns are mill spun and are good quality.
Washed Alpaca Fiber 2 Ounces $ 6.00
This is raw American alpaca fiber grown in North Carolina that has been washed. Nothing else has been done to the fiber. It is a natural fiber in natural color.
All spinners, felters, and craft people will be interested in this product. Great for all sorts of craft ideas.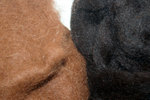 Alpaca Roving $ 8.00 Per 2 Ounce
American natural alpaca roving grown in North Carolina. This roving is available in 2 ounce packages. Spinners and crafters alike will be interested in this roving in natural colors. Alpaca is very hypo-allergenic and a green product.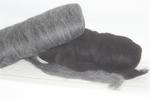 American Alpaca Batting $ 8.50
American natural alpaca batting in 2 ounce packages. Great for quilts, pillows, wet and needle felting. Can be used for any craft that you can imagine.
Raw American Alpaca Fiber 2 Ounce Packages $ 5.00
Each package contains 2 ounces of American natural alpaca fiber. The Huacaya alpacas are raised in North Carolina. The natural color of each package of fiber is of a green product. Spinners and all crafters will enjoy working with natural alpaca fiber for all of your creations. Alpaca is one of the most hypo-allergenic natural fibers.