Males for Sale
These males have correct conformation and nice fleece. They have Peruvian and/or Bolivian genetics with some of the soft fine Chilean genetics thrown in for finer fiber. Everyone on this list has placed in shows. These males are available as fiber males or as junior herd sires. Take a look and choose the males of your choice. The only reason we are selling these males are that they are related to our foundation females and can not be used in our breeding program. Our bad fortune can be your good fortune.
Ghost Dancers Dakota
ARI: 30851719
DOB: 01/25/2007
Sire: Ghost Dancer (White) 835574
Dam: 3 Hawk Cinnamon Mocha (Dark Fawn) 838777
Ghost Dancers Dakota is a male with correct conformation and super fine fleece. His fleece is uniform in color and grade. His fiber has place well in shows and he himself place 6th in a class of 12 yearlings where he was the youngest by 4 months at the 2008 Virginia Classic. This was a tough AOBA Certified Show. Not an easy feat at 13 months of age. He has a mild personality and easy to work. His 2008 histogram shows MFD: 22.3, CV: 22.5, CF: 92.2, Mean Curvature: 39.7 which was an improvement over his 2007 histogram.
His Sire is also a 2 time 1st Place Get of Sire. If you are looking to improve your breeding program and introducing not over used genes be sure to consider this male. He will be a good breeding sire but with regret we must sell him because he is related to our foundation females.
Price: $5,000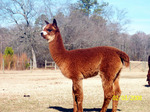 3 Hawk Ivanhoe
ARI: 1002096
DOB: 08/25/2003
Sire: 3 Hawk Sir Knight of Stove Prairie (True Black w/white face) 817032
Dam: Alpacablacka (True Black) 77516
Ivanhoe is a true black male with white markings on his face like his sire. He has correct conformation and his fleece has crimp , density, and nice hand. He has coverage from his head to his toes. His histogram from 2005 had AFD: 23.43, CV: 21.3, CF: 93%, and Mean Curvature: 43.1
He brings the genes of 4Peruvian Black Magic who has produced numerous champions and reserve champions.
Ivanhoe has ribboned in level V AOBA shows. He is gentle to work with when on a halter. He is aggressive when it comes to breeding. He is being sold because we can not use him in our breeding program due to relationships.
Price: $12,000.00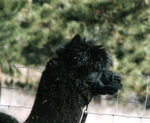 GHOST DANCERS SAMOSET
ARI: 30851801
DOB: 11/19/2007
SIRE: GHOST DANCER (WHITE) 835574
DAM: 3 HAWK OLIVIA (WHITE) 176436
Samoset was born the week of Thanksgiving and is name is from an Indian that attended the first Thanksgiving. He is as regal as any Indian Cheif with correct conformation. His fleece is very fine and crimpy from skin to tip. This guy has straight legs and coverage from his Peruvian head to his toes and to the tip of his tail. Uniformity throughout the fleece. 2008 histogram results MFD: 20.2, CV: 22.4, CF: 96.9, Mean Curvature: 34.9 Samoset has not shown yet but his fleece is being entered into an Ohio Show this Fall. He is also showing in halter November 15, 2008 in Maryland.
Here is your chance to acquire some of 5Peruvian Merino genetics for your farm. At import at the age of 2 years old Merino's histogram showed AFD: 20.1, CV: 23.9 and was rated as a 9 on a scale of 1-10 with 10 beingthe best. Merino has produced champions and reserve champions and Ghost Dancer in 2 years has produced 1st Place Halter winners and Get of Sire plus a reserve champion. Be sure not to let this guy go to someone elses farm.
Price: $3,000.
3 Hawk Zorro
ARI: 830204
DOB: 10/06/2000
SIRE: SA Magellan (True Black)
DAM: 3 Hawk Evita (True Black)
Zorro is a true black male with correct conformation. His fleece is dense, with low amplitude crimp. His fleece is wonderful to work with; it has a nice hand and is fine. He has coverage from top of his head to his toes. He is built like his sire. He has taken 1st Place in Halter at the 2002 Estes Park Wool Festival.
His sire, SA Magellan, has won 1st Place in Halter at the 2002 Estes Park Wool Festival. He has correct conformation and dense fleece. He passes these traits to his progeny. Magellan has produced many ribbon winning off-spring.
Zorro would make a great addition to any farm. He has 3 generations of true black and medium silver gray from his great grand sire, SA Karrington.
Price: $1,000.